Presser feet play an imporant role in the world of sewing machines, without them we could not sew no matter how good our sewing machine is. But do you know them well?
You will be wondering at this point, if they are so important, what are they really? Well, they are the pieces that shape the seam we want to do, they are placed next to the needle and it really helps us to do practically what we want: Sew on any type of fabric (from cotton, wool, plastic, jeans … ) to shape the seams and stitching we want.
There is a wide range of different presser feet you can find in your local shop or internet. If you work with complicated fabrics like vinyl or jeans, then you will use a different presser foot than if you want to do complicated ruffles.
Before starting to explain the different presser feet you should know that not all of them will fit your sewing machine brand. There are a few in the market that are multi-brand, but you will have to double check because some are only valid for one brand.
And before I continue, you should also know that sewing machines and sergers use different presser feet. In this blog post I talk about traditional sewing machine presser feet.
Now, the first thing you should see is if the presser foot comes with an arm or not, and also if your own sewing machine has an arm incorporated. If both the presser foot and sewing machine have arms, you wont' be able to fit them together. If only one of them has an arm, they will be able to fit together. I attach a pic so you can see the difference.
In the following lines I make a list of the most used presser feet. Of course there are more, but usually sewing machines come with these ones:
Straight foot: this one is for sewing simple straight lines, it is the basic one with which we will do most of our seams since it allows the normal sewing mode.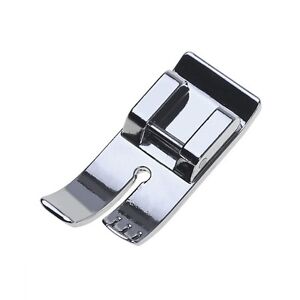 Zigzag foot: the foot you'll use for zigzag stitch and for some automatic decorative stitches.
Zipper foot: the main feature is that they allow you to stitch as close to the zipper teeth as possible. I assure you that you will sew many during your lives and it will become indispensable!
Patchwork foot: the right-hand side toe of this foot is 1/4th (5mm) wide, so it's useful as a guide for narrow seams.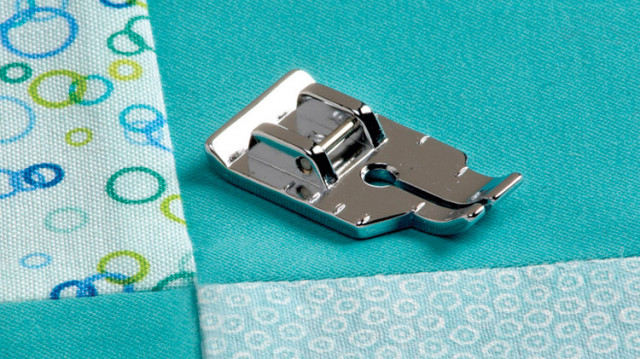 Clear view foot: this is useful for appliqué because you can easily see what you are doing.
Teflon foot: a super-smooth foot that glides over "sticky" fabrics, such as vinyl.
Blind hem foot: the adjustable right-hand toe lets you set the hem to the required depth.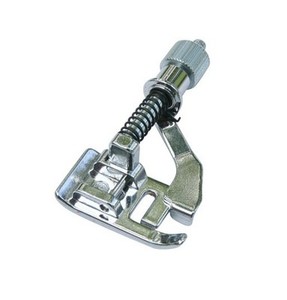 Free-motion embroidery foot: this is another foot that varies a lot in style. The open-toe versions, like this one, let you easily see what you are doing.
Walking foot: this foot helps to feed layers of fabric evenly through the machine when quiltin. They are usually expensive and not always necessary for simple quilting projects.
Automatic buttonhole foot: You fit the button in place and the buttonhole is sewn to the correct size to fit in. When we have to sew many buttons on shirts, it will make our lives a lot easier, you'll see how easy it is to sew buttons from now on.
About price
Now that we have seen the basic ones, let's talk about price. When buying, the first thing is to be clear that there are many different models and that according to what we want, the price can vary greatly from $50-60 to only $3-4, so do not be surprised when you see a price range so wide.
Normally, each brand manufactures specific ones for their machines. Normally, they are priced a little higher than "generic" but you make sure you don't have any compatibility problems. However, also (and increasingly) models that are not specific to a particular brand and that adapt very well, like all white brands, are a bit cheaper.
Anyway, if you do not want to go crazy choosing or having to stop every time you want to do something for not having the specific presser foot you need, you can get a briefcase like this that has 42 different.

How many presser feet do you use? 🙂